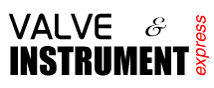 Valve & Instrument Express is a distributor of industrial process instrumentation. Primary markets are fossil fuel power generation, oil refineries, and chemical facilities. Specializing in gas turbine, combined cycle power plant, HRSG applications. Our fiber optic gas turbine flame scanners eliminate liquid cooling..
Products
.
.
2017 Valve & Instrument Express
Featured Product!
A 'drop in' improvement
NO MORE LIQUID COOLING!
Works with all control systems
Click below for a presentation on
.